April 2012
Monthly Newsletter

Top Story

Stuck with Old-Fashioned Help Desk? Here's your way out!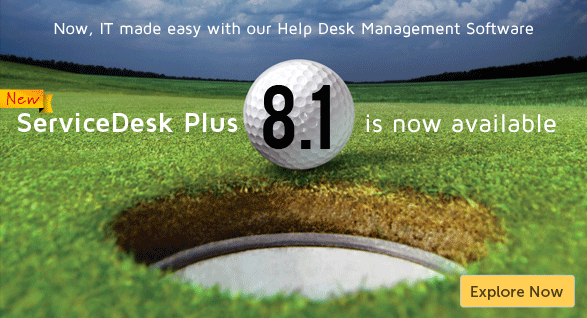 ServiceDesk Plus has strengthened its ITIL capabilities with an all-new CMDB to improve overall service availability and mean time to resolution. ManageEngine designed the CMDB in ServiceDesk Plus to address core usability challenges facing typical CMDBs.

It includes enhanced Service Catalog, with a new multi-level approval feature for service requests. Now, ServiceDesk Plus makes it easier for end users to view the SLAs' "agreed upon time," which is displayed before creating the service request.
We have added new capabilities for the self-service portal. With easier trouble ticket creation, the self-service portal reduces the load for IT administrators. The upgraded user interface and the real-time streaming of ticket status and history let end users help themselves.

Analyst Blogs
Integrated Physical & Virtual Servers Management
A recent study on what business enterprises expect from a performance management system, has shown that of IT professionals are looking for a solution that offers integrated performance management of both, the physical and the virtual IT infrastructure....

Track Your Website's SSL Certificate Expiry Date
In an era where online shopping is drastically growing and consumers are transacting sensitive information across the internet round the clock, you, as an organization, can never take a chance with website security...


Meet Us
May 8 - 10, 2012
Interop, Las Vegas [Booth 2027]
April 24 - 27, 2012
HDI Conference, Orlando [Booth 702]
April 24 - 25, 2012
SDIT Show, London, UK [Booth 938]
April 25 - 26, 2012
MEFTEC, Dubai, UAE [Booth X6]
---

© 2012. ManageEngine is a trademark of ZOHO Corp.
All other company and product names may be trademark of the respective companies with which they are associated.