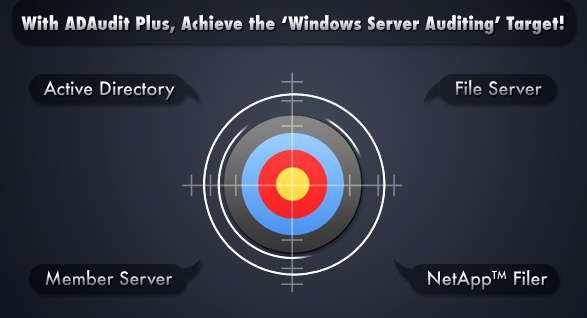 Windows Server Administrators face umpteen unforeseen challenges like unauthorized user logons, server logon trespass, tracking user logoffs, adverse reactions to critical Groups, OU, GPO modifications so on. The one Solution to multiple problems, is in the form of a single, central console - ADAudit Plus; Track, audit and report on the 4 business-critical Servers- Windows Active Directory, File Server, NetApp Filer & Member Server.

ADAudit Plus presents the behemoth audited data in a segmented and as simple, detailed reports totaling to 150+ and instant email alerts on critical events. The results can be exported to various formats to assist in interpretation, compliance and computer forensics!
The latest addition in the ADAudit Plus bandwagon is NetApp Filer auditing. Track the successful / unsuccessful file changes with dedicated 35+ pre-configured reports & e-mail alerts. Also, ADAudit Plus extends Support for Non-English DCs, File Servers and Member Servers.
© 2012. ManageEngine is a trademark of ZOHO Corp.
All other company and product names may be trademark of the respective companies with which they are associated.