May 2012
Monthly Newsletter

Top Story

Maximize Operational Efficiency with OpManager NCM Plug-in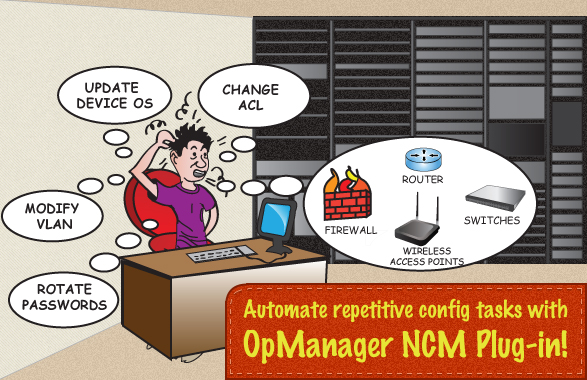 Enterprises make huge investments on procuring network infrastructure and employ highly skilled professionals to administer the network infrastructure. Surprisingly, a large number of enterprises still rely on manual processes to manage the configurations of network devices. With business requirements demanding frequent config changes to live equipment, manual, unplanned changes are fraught with the risk of errors resulting in network outage and even a devastating trail on network security.

An automated approach to network device configuration management not only helps avoid human errors, but also dramatically improves operational efficiency by reducing the time and effort required to update multiple devices from multiple vendors at one go. Integrating with OpManager - the end-to-end Network Monitoring solution, NCM Plug-in delivers true visibility into enterprise-wide network configuration status. Along with network performance, you can view and control the entire life-cycle of device configurations in fully automated fashion.

Analyst Blogs
Even UK Ministry of Defence Not Immune to Cyber-Attack!
Even some of the world's mightiest organizations are not immune to cyber-attacks. Just a few days ago, British Military's head of cyber security Major General Jonathan Shaw admitted that UK Ministry of Defence's....

Configuration Changes, Human errors and Network Availability
No need to explain – the effect will be catastrophic as everything gets affected. Your employees will not be able to do their work; customers will not be able...


---

© 2012. ManageEngine is a trademark of ZOHO Corp.
All other company and product names may be trademark of the respective companies with which they are associated.