October 2011
Monthly Newsletter

Top Story

ServiceDesk Plus Integrates with Desktop Central & Launches iPhone App
As a Help Desk Technician, do you get significant systems management requests that make you look into additional resources? Have you ever felt the need for doing systems management tasks from your help desk application? We heard you!
Introducing an integrated console for ITIL Help Desk and Desktop Management. That's right, you can track all your requests using ServiceDesk Plus and fulfill all their system related requests using Desktop Central, all from a single integrated console. It could be anything like mapping a network drive, installing a printer, installing or removing a software, patching the systems, upgrading an application or OS to the latest service pack, blocking USB drives and more.
The help desk application from ServiceDesk plus is now available on the iPhone. It's a simple to use app which helps the service desk staff access tickets instantly and from anywhere.

In ServiceDesk plus 'IT on the move' your service desk staff can create tickets, categorize and edit the requests. Assigning requests, replying and closing tickets can be done with ease from the app. Worklog will help in keeping track of your time spent on tickets. There are options to customize the request view, searching and picking-up tickets based on priority. With request management going mobile your technicians can now deliver focused and quick resolutions and keep the customers happy with increased productivity.

Analyst Blogs
ITAM - A Key Step in Reducing Operations Costs
Economy is not in your control, your organization's operation costs are! The economy curve isn't exactly going north and it is important for you, as an asset manager, to contribute for reducing operations cost...
Efficient IT Management: Silos aren't the Answer
Uptime, downtime, business continuity, cost, productivity and thousands more of such adjectives are the ones that we in the IT world have to hear on a daily basis. Customers or end users expect high uptime...
---
Product News & Updates
Exchange Reporter Plus
EC2 Health Monitor
Desktop Central
DeviceExpert
EventLog Analyzer
Firewall Analyzer
NetFlow Ananlyzer
Password Manager Pro
Site24x7
SQLDBManager Plus
Applications Manager

Customer Voice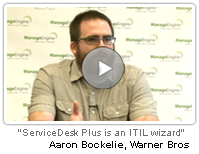 Quick Videos

© 2011. ManageEngine is a trademark of ZOHO Corp.
All other company and product names may be trademark of the respective companies with which they are associated.