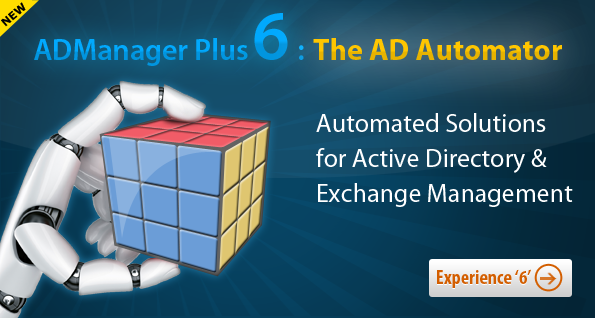 ADManager Plus 6 unveiled! The new version is capable of automating crucial Identity and Access management operations in Active Directory environment. Additionally, it offers automation and role-based access management techniques, which seal the gap between business needs and Active Directory technology, equipping even non-technical users with business know-how (such as HR/business managers) to involve directly in processes otherwise inaccessible to them.
Some highlights of this new version:
Automation Policies: Write rules that automatically execute an AD task (such as user provisioning) and also trigger a succession of supplementary operations at scheduled intervals. With this you can even automate the entire account lifecycle management for contractors.
User Modification Templates: A quick way to modify user accounts and also to define role-based access controls.
Rule-based User Modification: Configure autofill conditions; have certain user attributes filled in automatically when a specified condition is satisfied.
Enhanced Workflow & Automatic Task Assigner: The product's approval workflow engine has been revamped and can now also be configured to automatically assign tasks to users as specified by you.
© 2012. ManageEngine is a trademark of ZOHO Corp.
All other company and product names may be trademark of the respective companies with which they are associated.