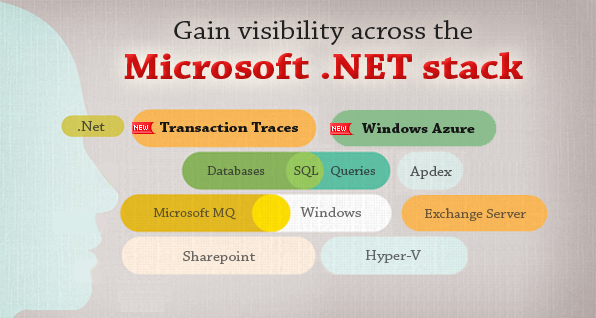 Does the IT infrastructure of your business use a lot of Microsoft and Windows applications and components? Then, check out the new Windows Azure monitoring and .NET transaction monitoring features in Applications Manager. This is in addition to the existing support for Hyper-V, Windows Server, Exchange, Active Directory, SharePoint, Microsoft MQ, SQL Server and IIS.
The Azure monitoring capabilities enables the IT administrators to ensure their cloud-based applications running on the Windows Azure platform perform optimally. It helps proactively troubleshoot performance issues and optimize capacity planning.
The .NET transaction monitoring helps development teams identify slow spots in transactions by showing breakup of web transaction response times to the granularity of a method level or database call. With Apdex user experience scores for .NET components, IT administrators can communicate application performance achievements to the line of business managers in a business-friendly language.
© 2012. ManageEngine is a trademark of ZOHO Corp.
All other company and product names may be trademark of the respective companies with which they are associated.