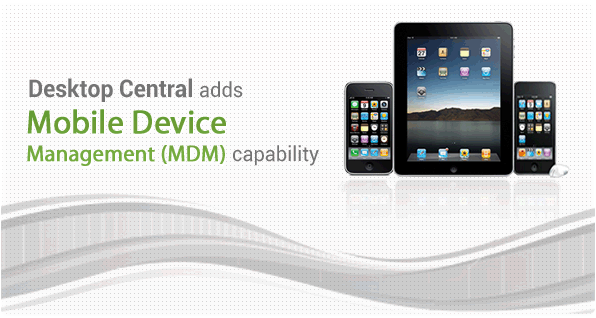 YES, you heard it right. Desktop Central strengthens its product portfolio to include Mobile Device Management capability, which means you can manage both Desktops and Mobile devices from a single solution.
As more and more enterprises adopt mobility to increase the user productivity, the IT has an additional burden of managing the mobile devices, both corporate and user-owned, in addition to the desktops and laptops. From the IT standpoint, procuring and maintaining multiple point products to manage desktops and mobile devices is a real pain. With MDM capability, Desktop Central addresses this pain and makes it easy for enterprises to manage both desktops and mobile devices from a single solution.
Desktop Central's MDM allows enterprises to manage iOS devices 4.0 and above, including the latest iOS 6.
Over-The-Air (OTA) Management: No need to install agents on the managed devices.
Configuration Management: Configure devices for Wifi, VPN, Email, LDAP, Webclips and other configurations.
Policy Management: Enforce passcode policy and restrict device functions like installing Apps, You Tube, disallowing untrusted certificates, etc.
App Management: Manage distribution of both in-house and app Store Apps to managed devices.
Security Management: Secure data theft from lost or misplaced devices by remotely locking a device or wiping off all the data from the mobile.
© 2012. ManageEngine is a trademark of ZOHO Corp.
All other company and product names may be trademark of the respective companies with which they are associated.