February Newsletter- 2010
To forward this newsletter to a friend or colleague,
click here
.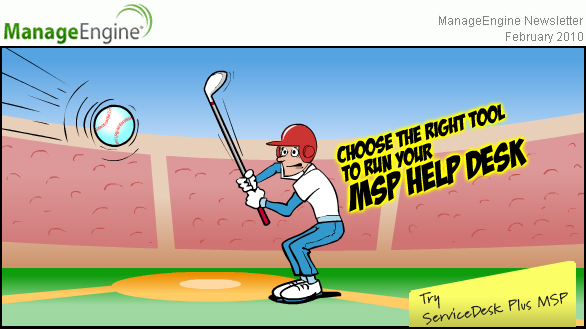 Choose the right tool to run your MSP Help Desk
There is nothing like an exclusively built Help Desk solution to complement your existing MSP solution. The solutions in the market today are not adequately aligned to the MSP business needs and leaves much to be desired. How about a Help Desk that is thoughtfully built for MSPs and meets every need of distributed Help Desk Management? Why settle for anything less when you have a powerful MSP Help Desk whose state-of-the-art features lives up to the promise of ensuring quick attention to a problem and reduced resolution time? Try ManageEngine ServiceDesk Plus - MSP Edition and experience the manifold benefits of robust Help Desk and Asset Management solution. ServiceDesk Plus -MSP helps manage multiple clients from a single console providing an excellent control on functions such as:
Managing multiple clients
Managing account-specific SLAs
Managing client's Asset
Account-specific rebranding
Remote control management
Account-specific knowledge base

Improve your business by ensuring the best service quality using ServiceDesk Plus – MSP. Experience the power with the full-featured 30-day free trial now! .

Defining an Email template in Network Monitoring Systems
Here is an easier way to integrate Email Alerts from any Network Monitoring solution, be it HP OpenView, Solarwinds or ManageEngine OpManager (& Applications Manager) into ServiceDesk Plus. Read more...


Sub Minute Visibility
You may have seen that NetFlow Analyzer generates various kinds of report which can be used for Network troubleshooting, more visibility on traffic patterns, trend analysis, etc. In continuation with Data storage pattern blog, we are going to discuss on sub minute visibility available on the NetFlow Analyzer. Read more...


Integrate Network State into Applications Manager
Today's applications are complex in nature. Applications are hosted in data centers, thousands of miles away from Head Office / Branch Offices. Administrators / Helpdesk Technicians face an uphill task to troubleshoot Application performance or issues, though they have sophisticated tools to remotely access these applications. Read more...
IN THIS EDITION

Identify Application Performance Anomalies beforehand with Applications Manager Release 9.1

Identify potential application performance problems beforehand with 'Anomaly Detection' feature available in Applications Manager version 9.1. Real Browser Monitoring with multi-site end-user capability, REST APIs to help integrate Applications Manager with intranet portals are some of the others features that are included in 9.1 release. With the new ManageEngine OpStor SAN Monitoring connector, you can also integrate SAN monitoring capabilities with Applications Manager.

ServiceDesk Plus is No.2. We just try harder...

ManageEngine ServiceDesk Plus has been rated No.2 by the Windowsnetworking.com readers in the Help Desk category. No one remembers the Olympic silver medalist. No one remembers the runner-up. But we just wanted to say that we just try harder. Thank you to all the customers and readers of Windowsnetworking.com who voted for us..

servicedeskplus.com

Windows IT Pro: ADManager Plus an "inexpensive alternative" to Active Directory Users & Computers

Windows IT Pro Recommends ManageEngine ADManager Plus as an "inexpensive alternative" to Active Directory Users and Computers. Some excerpts from the review:


"Bulk User Modification" feature sets ADManager Plus apart from its competitors

ADManager Plus has the most comprehensive list of reports, including Compliance-specific reports

Optimize Web Server Performance by analyzing the throughput with Site24x7


Site24x7, the hosted website monitoring service, has recently added the ability to monitor Web Server throughput, to its website performance monitoring capabilities. This along with average response time measurement, page size and response time in various modem speeds provide a comprehensive picture of a website's performance for various users. Webmasters or website owners can make use of these information to optimize the performance of their business-critical websites.

site24x7.com

Now, Create Tickets and Manage Assets from Desktop Central

ManageEngine Desktop Central now allows you to integrate with ManageEngine ServiceDesk Plus and ManageEngine Asset Explorer. With this you can create tickets using Desktop Central, which directly gets logged in as tickets in ServiceDesk Plus. Same way, the asset details from Desktop Central can be integrated with Asset Explorer. More..

desktopcentral.com

Be more secured by analyzing the SNMP Traps & Syslogs with the new SIEM Integration provided by

Password Manager Pro

The latest release, ManageEngine Password Manager pro 6.2 has provision for generating SNMP traps and Syslog messages upon the occurrence of any activity/event - be it password access or modification or any other activity performed in the PMP application. The traps/syslog messages can be sent to the SIEM tools, which can thoroughly analyze these events, correlate them with other network events and provide informative, holistic insights on the overall network activity.

passwordmanagerpro.com

Automate NCM, Improve Efficiency

Automating NCCM activities with ManageEngine DeviceExpert could significantly save your time, cost and resources, reduce the risk of errors and thereby reduce network downtime and improve efficiency and productivity. Check out this Video.

deviceexpert.com


2010 ZOHO Corp. All rights reserved. ManageEngine is a trade mark of ZOHO Corp.
All other company and product names may be trademark of the respective companies with which they are associated.