December Newsletter - 2012
December 2012
Monthly Newsletter
Top Story

ITIL + Comic + Fun - It's also a 2013 Calendar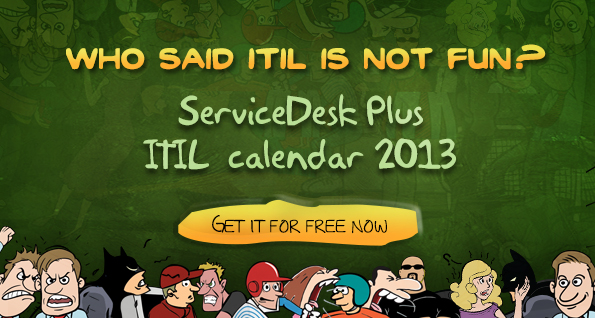 ITIL Comical Calendar for Free
We all use calendars. It could be Desk Calendars, Desktop Calendars, Wall Calendars, Magnetic Stick Calendars or even Mobile Calendars. We buy or set Calendar themes depending on our mood and interests. But how often have you come across a calendar which is based on ITIL? Here's a not-so-serious Desk Calendar based on ITIL, which we hope brings a smile on your face. We can't wait for you to start using the calendar, which is why we'll ship it to you for free.
All you need to do is send us your shipping details, and we'll get the elves working.
Go ahead, Check it out! And send us your feedback.
Now, who says ITIL has to be boring? Know more...
Product News & Updates
Synchronize Windows AD password across multiple platforms with ADSelfService Plus.


The latest release of ADSelfService Plus (version 4.5 build 4570) introduces multi-platform... more...

Applications Manager now integrates with www.site24x7.com - ManageEngine's cloud offering


Monitor website performance from both within the corporate LAN and from 40+ locations outside your... more...

ADManager Plus' latest release (build 6001) features an enhanced 'Report Scheduler' for more flexibility in configuring report schedules.


Flexible Schedule Execution Frequency: With the latest options in specifying schedule execution times... more…

Analyst Blogs
3 Predictions You Should Ignore for 2013
If you've been on Forbes this week, you've undoubtedly seen the first wave of 2013 predictions popping up. Yes it's that time again, when industry pundits and prognosticators announce their picks for the "next big thing" in the coming new year...
How companies can implement Internet fair use policy for corporate users?
Internet fair use policy or acceptable use policy defines the appropriate Internet usage behavior expected from employees in their workplace. The policy aims to protect the employees as well as the companies IT infrastructure from malicious ...

---

© 2012. ManageEngine is a trademark of ZOHO Corp.
All other company and product names may be trademark of the respective companies with which they are associated.