March Newsletter- 2010
To forward this newsletter to a friend or colleague, click here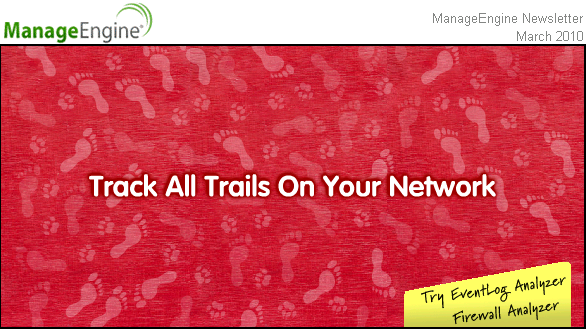 Two Experts to keep IT Security Vigil - Log Management and Compliance Audit
Proactively ensuring security of data and networks is very much critical for enterprises to prevent loss of trust and litigation of their clients. The two critical components of complete security, Log Management and Compliance audit, play a major role in monitoring the security and compliance of enterprise networks. IT Administrators have to be constantly vigilant to secure their enterprise networks from data thefts and hacks. They need tools that identify and troubleshoot security incidents faster in real time. ManageEngine offers automated solutions, Eventlog Analyzer and Firewall Analyzer, that monitor logs generated by hosts, applications, network security devices in real time and achieve compliance of major regulatory acts like HIPAA, GLBA, PCI, SOX. These solutions help you to:
Protect customer and enterprise data
Be compliance audit ready

Improve overall IT efficiency

ManageEngine Event Log Analyzer - Focuses on the internal security threats and comprehensive compliance audits reports
ManageEngine Firewall Analyzer - Zeros in on external security threats and firewall performance optimization

Take this quick survey if you are already using Event Log Analyzer or Firewall Analyzer.

IN THIS EDITION

ManageEngine launches Reporting Software for MS Exchange

Get a profound insight on Exchange Servers, Mailboxes, Distribution lists, Custom Recipients and more about your complete Exchange infrastructure, with the new ManageEngine Exchange Reporter Plus - Beta, a web-based analysis and reporting solution for MS Exchange. Download the free trial and evaluate the beta.

manageengine.com/exchangereporterplus

Now, manage Cisco Nexus, HP P Series, Fujitsu Switches with DeviceExpert

The latest release build 5450 of DeviceExpert support for several new device models including Cisco Nexus Switches, HP P Series and Fujitsu Switches.

Eliminate hard-coded credentials using Password Manager Pro

Do you hard-code the passwords in a configuration file or a script for application-to-application or application-to-database communication? Eliminate the hard-coded passwords and thereby security threats using the Password Management APIs available as part of the latest release of Password Manager Pro (PMP).

manageengine.com/passwordmanagerpro

Monitor the end user experience for web transactions with Applications Manager


Applications Manager's Real Browser Monitor (RBM) opens up a Microsoft Internet Explorer and monitors the availability and page load times of web transactions. RBM also supports playback from multiple geographical locations, giving high visibility into web transactions and enhanced user experience even across branch offices.

Eliminate Application Sluggishness


When a user experiences sluggish performance of an ERP or a business-critical application, how do you, as a network administrator, pinpoint the problem? The problem child can either be the application, the server, or the bandwidth. Read on to know how using Applications Manager and NetFlow Analyzer can get you just there.


manageengine.com/netflowanalyzer

Enhance Account Management Audit Actions using ADAudit Plus

ADAudit Plus released its latest version "ADAudit Plus 4.0 Service Pack 4.3". This release includes a refurbished "Account Management" report category that provides a unified view of audit reports on all AD Management actions.




2010 ZOHO Corp. All rights reserved. ManageEngine is a trade mark of ZOHO Corp.
All other company and product names may be trademark of the respective companies with which they are associated.